Asha Deep School
A lady whose house faced the Nagwa slum in Varanasi for years, founded in 2004 the Hope and Joy Society for the Underprivileged in order to improve the Nagwa people's poor circumstances.One of her initiatives was founding a school, the Asha Deep School.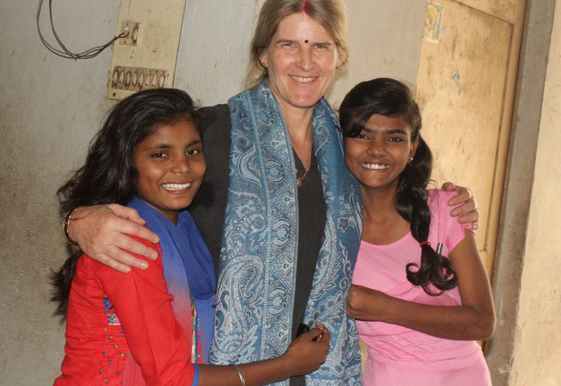 The 8-class school not only offers regular education, also aims at maintaining dialogue with the parents of the children and improving the basic health of the community.
The Asha Deep School, catering to many children from our own Nagwa area, is beautifully situated on the banks of the river Ganges.
The classes are small, there are 13 well paid teachers for the more than 200 students.The students from class 2 till 8 (150) get a hot school meal at noon and stay in school in the afternoon for extra tuition and home work classes. There is an after-school programme with sport, games, handicraft and arts,
After class 8 the students continue their studies at English-medium schools nearby. With the help of individual sponsors.
And with the support of director Connie Rao who doesn't forget her former students. She helps them with extra tuition and moral support. She considers this follow-up programme as an essential part of her job.
Building, lunch, small classes, well qualified teachers and an after-school programme cost a lot.
The school is rented and every year the rent increases. For years director Connie Rao dreamed of an own building. This dream will come true now, thanks to some big legacies from abroad.
In September 2021 Connie was able to purchase a piece of land where her new school will be built.
The piece of land, 1300 m2 big, is situated about 3 kilometers south of the city of Varanasi, in an area where several Dalit communities live.
Because this is Connie's intention: to provide the poorest and castless people with good education.
The amount of schools in the area of the present Asha Deep School has increased, also for poorer people. That's why Connie dares to leave the city with confidence and start elsewhere.

ashadeepschool >